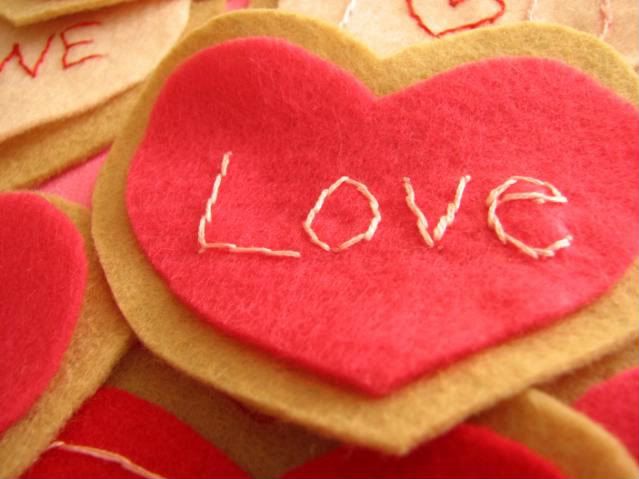 Lately I've loved looking at the gorgeous valentine's decorations everyone is coming up with. Here is mine, and it's cheap (yay!) and easy! You gotta love a nice felt craft!
I love sugar cookies. Especially those that are so beautiful you feel guilty eating them. They seem to come out of the woodwork around V-day, and I always seem to forget to pick some up (and never seem to have the time to make them) I came up with this idea when I looked at my big box of felt and just knew there had to be some cutesy thing I could make from it. I didn't want to spend any money buying supplies, so I made do with what I had laying around.
Supplies:
Felt: Pink, red, hot pink and tan are what I used (just the cheap acrylic stuff)
Embroidery thread in contrasting colors and a needle
glue (I used hot glue)
ribbon to match
tree branches to hang them from (mine are from the apple tree)
Find a nice heart shape that you like (I made mine up, but I've used cookie cutters before) and cut out as many as you'd like from the tan felt. Find a slightly smaller heart and cut out the "icing" colors from your other felts. Figure out what sayings you'd like on the hearts and write them on the icing hearts with a sewing marker (the kind that washes away with water) Using 3 to 4 strands of your embroidery thread, stitch the words that you just wrote using a backstitch. (that's what I find easiest, as I'm NOT an embroiderer by nature!)
Once you finish your words, glue the smaller hearts onto the larger tan hearts. Attach small loops of ribbon to the back of the tan hearts with hot glue. Gather your branches and twigs into a bundle and hold it all together with a rubber band. Place in a vase if you'd like, then twist and turn the branches until you like the way they look. I was originally going to spray paint mine white, but when I saw the little buds on them I just couldn't. They are such a beautiful reminder that spring is just around the corner! (I say this as it's snowing like crazy outside)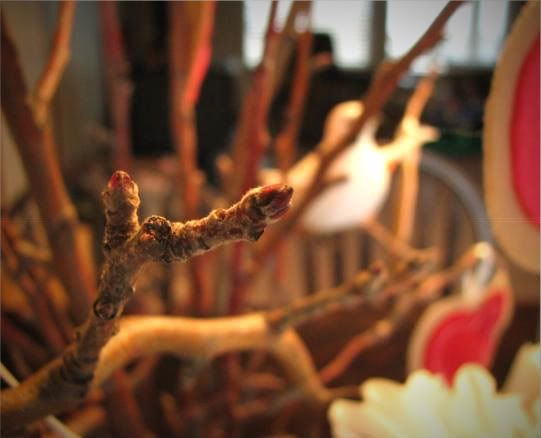 I found some clip on birds in the 90% off christmas section at Joann's for $0.49 each! They were perfect for my V-Day tree, and I think they might just stay there year-round. I've also got some great feathered friends from the Dollar Tree that I found around Christmas time.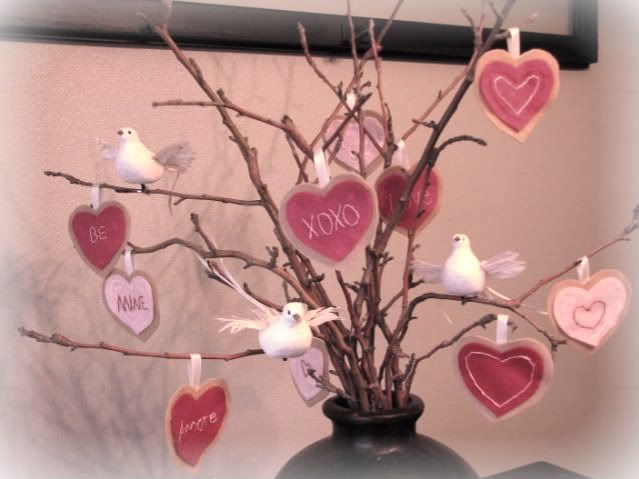 and seriously, how cool is photobucket's editing software?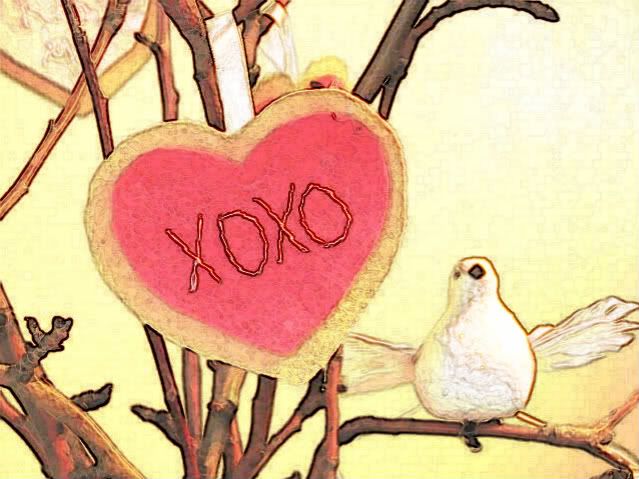 This would make a great valentine!
These "cookie hearts" would make a great garland as well. Just poke small holes in each "hump" of the heart and string onto a long piece of ribbon and then hang! Have fun!
Linking this to
DIY day
on A Soft Place to Land