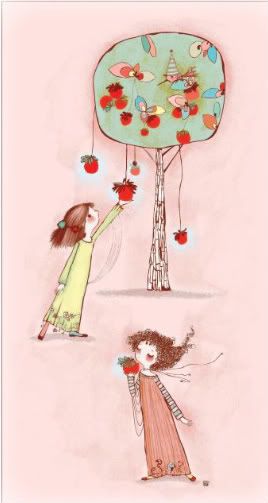 I'm sure I'm the only one in Blogville that has NOT come across this site yet, but just in case I'm not, you HAVE to go see for yourself!
Feed Your Soul
, the free art project by IndieFixx has a page with dozens of amazing, beautiful, gloriously FREE art! You can download it and do whatever your heart desires... Some of the art on there would make amazing appliques for shirts, others would (will!) look great mod podged on my crafty supplies. No sense in letting free art go to waste!
I love art. I love free stuff. Usually the two do not combine, but this time I feel like I've struck gold! My eyes have gone starry and the crafty potential is coming in flashes. I adore the one above, and think it may end up in some form in the playroom. Doesn't it look like sisters?
Go check it out, and let me know what you do with the art you download!
One last thing. My newest project on my winter to-do list? Sled seatbelts. Helmets with attached ear muffs. Bubble wrap snowsuits. Doggie brakes. And this is why:
That is four-year-old Beary being pulled at about 20 mph by Abby, one of our dogs. She (Abby) is only about 45 pounds, so imagine how fast they'll fly when we train our puppy Gus to pull with her (and he's already at 90lbs at 1 year!) Lord help me.