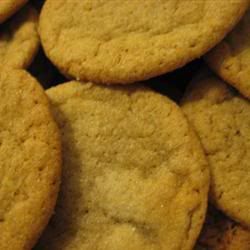 Big. Soft. Gingery. delicious

Do have a recipe that you can't live without? One that warms your soul and entices your senses? Mine is
this cookie
. Every time I make them I end up loving them a little bit more.
The texture is perfect. The smell is delicious. The taste is heaven.

And perhaps the best part is that everyone in our family loves them. FINALLY something that we all agree on! (even picky little Beary)

They taste fine just like the recipe calls for in the above link, but here is a slightly altered version that I use:

Ingredients
2 1/4 cups all-purpose flour
2 teaspoons ground ginger
1 teaspoon baking soda
1 teaspoon ground cinnamon
1/2 teaspoon ground cloves
1/4 teaspoon ground nutmeg

1/4 teaspoon salt
3/4 cup margarine, softened
1/2 cup white sugar
1/2 cup brown sugar

1 egg
1 tablespoon water
1/4 cup molasses
2 tablespoons white sugar
Directions
Preheat oven to 350 degrees. Sift together the flour, ginger, baking soda, cinnamon, cloves, nutmeg and salt. Set aside.
In a bowl, cream together margarine and 1 cup sugar until fluffy. Beat in the egg, then mix in the water and molasses. Gradually stir the sifted ingredients into the molasses mixture. Shape dough into walnut sized balls, and roll them in the remaining sugar. Place 2 inches apart onto an ungreased cookie sheet, and flatten slightly.
Bake for 8 to 10 minutes. Cool on baking sheet for 5 minutes before removing to a wire rack to cool completely. Store in an airtight container.
Enjoy! (hmm. Need to make these tomorrow for sure!)