Boo's room is almost done! I went with a shabby beach-cottage theme this time, and I'm loving the look of it! I still have a few small things to do, but it's coming together nicely. The wall color is Sherwin William's "pearl onion". The bedding and flag bunting are from the Simply Shabby Chic collection at Target. The only thing we have to do in here is replace the dresser, which I don't like at all. And I think I'll add some airy curtains this spring, along with some beachy accents we pick up on our vacation to the coast this summer. I have some more frames to hang, but I'm not sure exactly what I'm going to put
in
them yet. Maybe something like
this
and
this
or a
sand written message
, maybe one that says Rosie?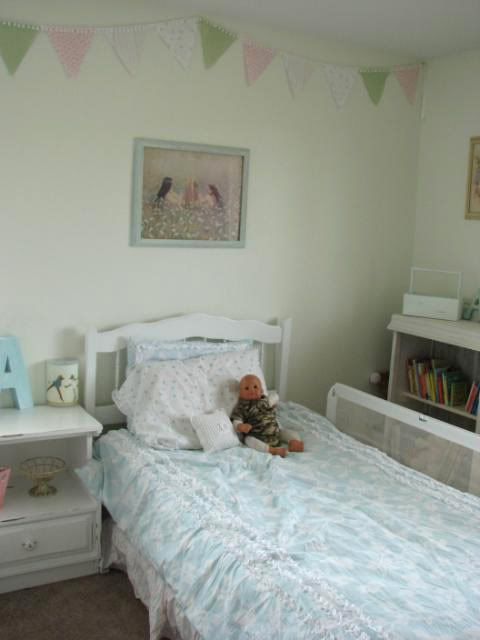 Here is the room. I've got a few more things to put up on the walls, and the three-sisters print above her bed will be moving across the room soon. I'm hoping to find an old paned window frame to go above the bed instead.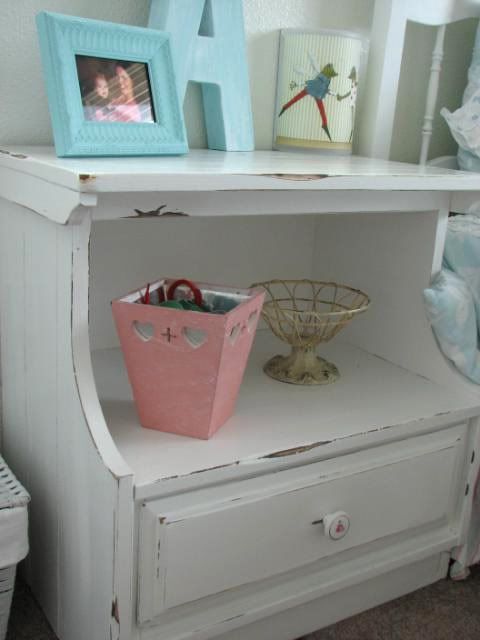 The old nightstand I picked up at the thrift store for $6! It's gorgeous! I repainted it and then just sanded it down in a few spots. I was going to replace the knob with a glass one, but this one has a rose on it and Boo's most-used nickname is Rosie. So it stays for now!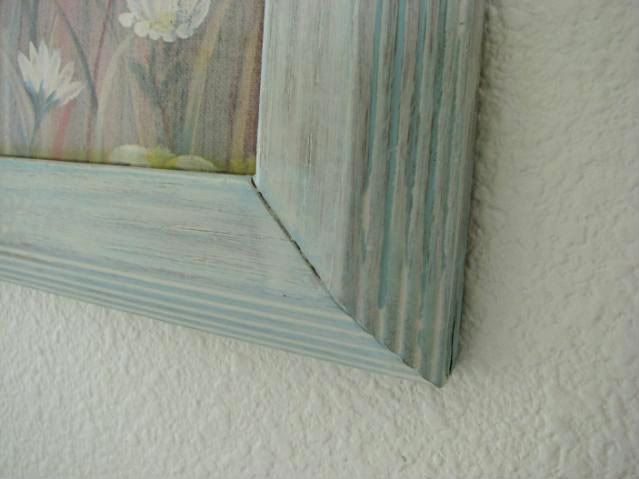 Here is the frame around the sisters' print above her bed. I got it for $1 and just painted on a really light layer of robin's egg acrylic paint, then another layer of watered down off-white acrylic. I think it looks great, and you can't beat the price! I love the print too- I found it at the thrift store shortly after I found out we were having a third girl.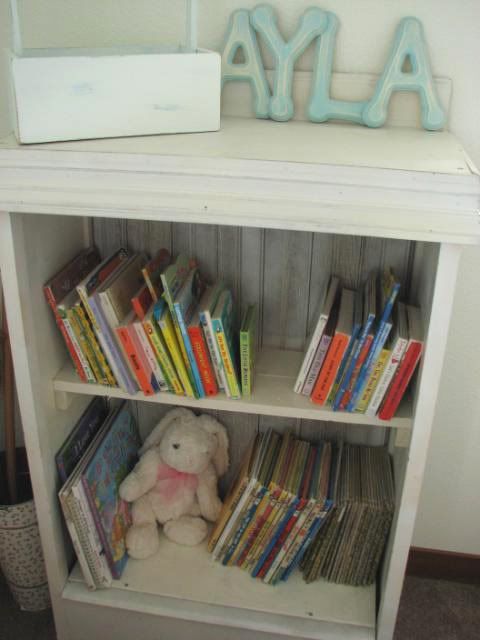 I found this adorable little shelf at a yard sale about two years ago. The lady was selling this awesome shabby-chic stuff, which is almost impossible to find around here! I think I paid $2 for it! The only thing we did to it was pop off the shelf that was originally on it as it was too narrow. Then the hubs put in some 1x4s and made a simple shelf to hold more books. A light coat of white & antique white spray paint (my ingenious hubs thought of layering them all on his own!) made it look original!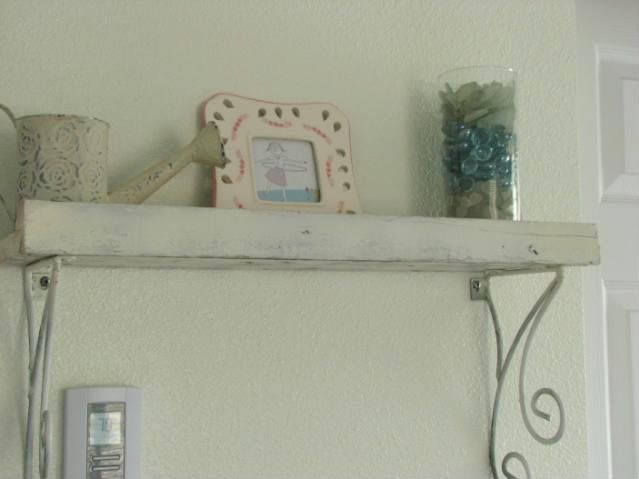 Here is the shelf we ripped off of the bookshelf. We painted the raw edges and it was good to go!
Only a few more little details and the room will feel complete. Then it's on to Binks room!
Linking up to
Disney's giveaway
at Ruffles & Stuff!