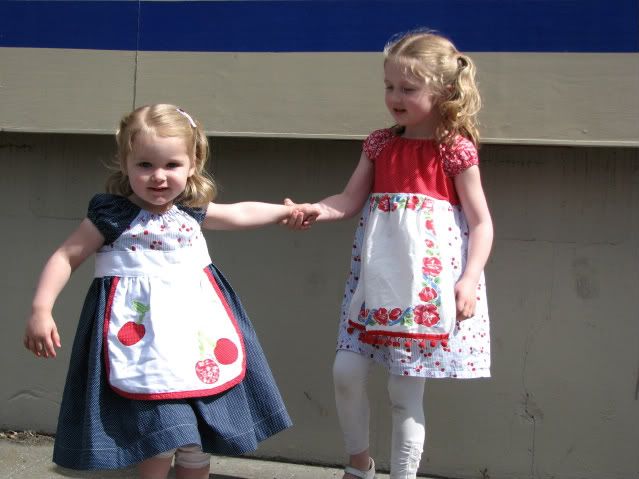 I've been MIA! Visited my little brother, home on leave from Afghanistan, accomplished a lot of yard work, sewed like crazy, and couldn't post any or it because of my camera! Finally figured out it was the finicky battery charger, but it was frustrating to say the least.
Every year the local spring celebration is the Cherry Festival. I love making outfits every year for the parade, and this year I had three to make. I shouldn't wait to the last minute- staying up till midnight for four days is too much!
I really wanted a vintage look to them, so I made peasant bodices and changed up the skirts a bit. Btw, LOVE
portabellopixie's
patterns! I used the "claire" pattern this time.
Beary's dress has a vintage napkin for an apron with pompom fringe. Boo's has fun cherry appliques on the apron, which is made of an 800tc *gasp* pillow case 'cause I ran out of white fabric! (seriously, how does THAT happen?) Binks was just a simple little ruffle dress. I did try two new techniques this time, with the bias tape on Boo's apron and shirring on Binks dress! Here are some pics! Which are low quality. Thank you dearest Boo-who-is-two and loves to touch buttons on mama's machines. (camera included)